An Accidental Celebrant

By Michael K. Jones

I had a conversation with my neighbor this past weekend. It was one of those over the fence type exchanges we see all the time on sit-coms. I forget how it started but we wound up talking about death, the afterlife and the people we leave behind. As she was making a point she suddenly stopped and bluntly stated, "Sometimes I just can't find words to tell you what I think about this."

Her statement got me thinking. I keep hearing that we live in a society where people avoid death. While that may be true for some I think there's something else going on. When I meet with families to plan services I detect little unwillingness to engage and discuss death. We're more than willing to talk about death. What seems to be the issue is that we often struggle to find the language to express our thoughts, emotions and experiences.

I recently came across some interesting numbers that help me with this shift in thinking. While I was reading Kenneth Woodward's thought provoking Getting Religion I discovered that in the 4-year period between the years 1968 and 1972 roughly 1200 books on death were published. This is almost the same number published in the 18 years leading up to 1968. Each of these writers, in their own way, was trying to get us thinking and talking about death. They were trying to get us communicating in ways that had rarely been tried.

Perhaps all of this is because death is such a big reality in our lives it just can't be captured in the words we use every day. Maybe we need a new vocabulary. There may be a symbolic gesture that captures what we want to get through to others. A couple of weeks ago I was meeting a family to plan a funeral when the doorbell rang. When a family member opened the door a neighbor was standing on the front step. All he said was, "I don't bake so here!" With those words he handed the family two bottles of wine and ran off.

That physical gift said more than any words could get across. Maybe that's what we need when talking about death – a new language with which we can get on with life and honor the people we need to honor.


---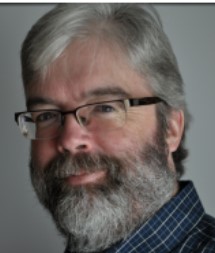 About the Author: A native of Fredericton, New Brunswick, Michael K. Jones was born and raised in Atlantic Canada. A former minister in the United Church of Canada he has ministered to a variety of congregations for over twenty years. Dead Reckoning is his second book. His previous release is Empty Houses: A Pastoral Response to Congregational Closure. When Mike is not writing he is enjoying walking and reading. He resides with his wife Trish in Calgary, Alberta.

Dead Reckoning is now available online through Amazon.ca.