The Accidental Celebrant

A Tale of Two Songs – Part One
The Best of Songs

By Michael K. Jones

When I meet with clients to plan a service one of the things we discuss is music. What songs are going to be played during the service? Is there going to be a song playing as the family enters the service area prior to the start of the funeral? Are there going to be any solos or other pieces played during the funeral? Is there going to be a special piece at the end of the service?

On one occasion a family asked me what they could play during a slideshow presentation they had prepared for the service. The deceased was obsessed with golf so I suggested Kenny Loggins' "I'm Alright", which is the theme song of the movie Caddyshack. It was a real gamble on my part but it was based on what I was hearing from the family.

I was a little nervous when we reached the part of the service when the slideshow would be played. I was seated in a spot where I could see both the screen at the front and the faces of the family and friends. When the eulogy was done and I had introduced the slideshow the lights went down and the screen lit up. The first photo was of the deceased on the course lining up a shot and we could hear the sound of the sprinklers at the beginning of "I'm Alright".

I must admit that for those first few seconds I was watching the congregation more than I was watching the screen. It was one of those make or break moments where the funeral's effectiveness hung in the balance. I was quickly relieved when I saw those early smiles and nods in the first few rows.

Not every gamble pays off. Some ideas work and many land with a thud. Listening to "I'm Alright" and experiencing the response in this particular situation was definitely worth taking the chance.

Next time I'll talk about an idea that went down in flames.

---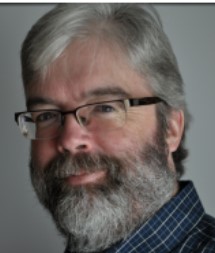 About the Author: A native of Fredericton, New Brunswick, Michael K. Jones was born and raised in Atlantic Canada. A former minister in the United Church of Canada he has ministered to a variety of congregations for over twenty years. Dead Reckoning is his second book. His previous release is Empty Houses: A Pastoral Response to Congregational Closure. When Mike is not writing he is enjoying walking and reading. He resides with his wife Trish in Calgary, Alberta.

Dead Reckoning is now available online through Amazon.ca.